Horizon Pro Dental
Where great teeth are on the horizon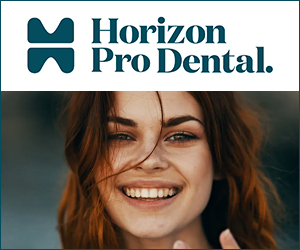 Contact details
Address

Unit 2/80 Onkaparinga Valley Rd Woodside SA 5244

Email

Phone

Website
Mon

9am - 5pm

Tue

9am - 5pm

Wed

11am - 7pm

Thu

9am - 5pm

Fri

9am - 5pm

Sat

Closed

Sun

Closed
Horizon Pro Dental is a well-established family-run dental surgery with over 35 years of experience in the field. With a strong focus on dentures and repairs, the clinic has gained a reputation for providing high-quality dental care. Located at Woodside and Glen Osmond Road, the clinic offers convenient access for patients in the area.
One notable aspect of Horizon Pro Dental is its in-house dental laboratory. This allows them to manufacture their own dentures, ensuring precise customisation and quality control. Having an on-site laboratory enhances efficiency and allows for quick turnaround times, ensuring patients receive well-fitting and aesthetically pleasing dentures.
In addition to dentures and repairs, Horizon Pro Dental offers a wide range of general dental services. From routine check-ups to fillings, cleanings, and other essential treatments, the clinic caters to various oral healthcare needs. Furthermore, they specialise in nightguards and clear aligners. Nightguards are custom-made to protect teeth from grinding and clenching during sleep, while clear aligners provide a discreet and convenient option for teeth straightening.
Horizon Pro Dental boasts a team of skilled Prosthetists and General Dentists who are committed to delivering exceptional care. With their expertise and experience, they can effectively address dental emergencies and provide prompt treatment. Patients can rest assured that their dental emergencies will be handled with professionalism and expertise at Horizon Pro Dental.
The clinic prides itself on creating a welcoming and comfortable environment for patients. The friendly and caring staff prioritise patient satisfaction, ensuring that individuals receive personalised care and attention. Horizon Pro Dental aims to build long-lasting relationships with their patients, fostering trust and confidence in their dental services.
Horizon Pro Dental is a trusted dental practice with a long-standing history of providing dentures, repairs, and general dental services. Their expertise in nightguards and clear aligners, along with their convenient locations at Woodside and Glen Osmond Road, make them a go-to choice for individuals seeking comprehensive dental care.
With its team of Prosthetists and general dentists, the clinic is well-prepared to handle all dental emergencies and provide patients with the highest standard of care.